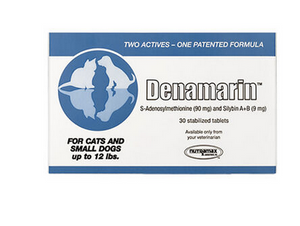 Denamarin Liver Anti-Oxidant Tablets PKG/30 Strength 90 mg
Denamarin Tablets are a veterinary approved nutritional supplement containing the antioxidant Silybin used to improve your pet's liver function by increasing liver glutathione levels. The tablets come in three different strengths
When liver function is compromised, the exact cause can often be difficult to determine. Supporting the liver, regardless of the cause, is essential to keep it working properly.
Administering SAMe (S-Adenosylmethionine), which is found in Denamarin, has been shown to markedly increase liver levels of glutathione, 1, 2 an important compound for liver health formed when SAMe is metabolized. The SAMe in Denamarin has also been shown to help protect liver cells from cell death 3, 4 and may help cell repair and regeneration. 5
Denamarin also helps support your pet's liver through the administration of SILYBIN. SILYBIN is an active part of an extract from milk thistle, known as silymarin, and has been shown to support liver function by helping maintain a healthy oxidative balance.
While best known for supporting the liver in dogs and cats, research has shown that the S-Adenosylmethionine (SAMe) in Denamarin may help support cognitive function in dogs 6. Denamarin provides SAMe in a stabilized form to help with brain health and act as a neuroprotector. Denamarin also provides a bioavailable form of silybin which supports oxidative balance.
Denamarin has no known serious side-effects. Your veterinarian can evaluate the length of support needed through follow-up examinations, blood work, and/or other laboratory work. At home, watch for a response in your pet's attitude, appetite, and activity level.
Denamarin is available as enteric-coated tablets for dogs and cats and in tasty chewable tablets for dogs. Advanced technology in the exclusive NMXSS75® S-Adenosylmethionine found in the chewable formulation provides stability, eliminating the need for enteric coating or foil-on-foil blistering. The chewable tablets for dogs are tasty, single size and scored for easy administration. Additionally, the chewable tablets allow for quicker uptake of the SAMe and less variability between dogs when compared to enteric-coated tablets.
Denamarin is available from your veterinarian. Please consult your veterinarian to see if Denamarin is right for your pet.