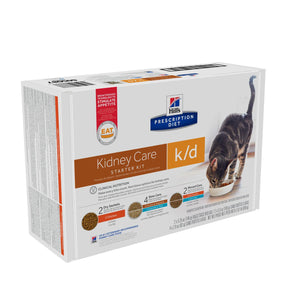 Hill's Prescription k/d Starter Kit - Feline Assorted Canned & Kibble
Hill's Prescription Diet k/d Cat Food for Kidney Care is clinically proven nutrition that can improve and lengthen the quality of your cat's life. With kidney conditions, your cat's appetite may fluctuate and their taste can be compromised. Their food intake might decline, which may lead to loss of muscle mass. Your vet's nutrition recommendation is an important part of their treatment.
This Prescription Diet k/d Starter Kit has a variety of flavors and textures of dry & wet food that enables your cat to taste multiple foods in one convenient box. You can use it as a trial starter kit for your cat to sample all the k/d options or, if you are currently managing your cat's kidney condition, this kit can be any easy way to try some new varieties.
Created by Hill's nutritionists and veterinarians, Prescription Diet k/d is complete and balanced nutrition for long-term kidney care.  Includes one each k/d Chicken pâté 5.5 oz can and k/d Tuna pâté 5.5 oz can; and two each k/d Chicken dry 5.25 oz bags, k/d Chicken & Vegetable stew 2.9 oz cans and Vegetable & Tuna Stew 2.9 oz cans
How it helps:

Improves & lengthens quality of life
Protects vital kidney function
Enhances appetite and increases food intake
Provides long-term balanced nutrition for kidney care
How it works:

Delicious choices with a variety of flavor and texture options will help you discover what satisfies your cat's evolving tastes.

Prescription Diet

k/d is the only kidney care food with Enhanced Appetite Trigger (E.A.T.) Technology that stimulates appetite and increases caloric intake.
Convenient and easy way to try the breadth of the

Prescription Diet

k/d portfolio.